Oct 6, 2021
Odds are you have a bathroom (or two, or three) in your home. But a "spathroom"? That's the latest rage, according to a new survey by Houzz.
This home design site surveyed nearly 3,000 homeowners between June and July who were planning, doing, or had just completed a bathroom rehab to find out what upgrades they were asking for most. All in all, one theme came to the fore: rest and relaxation, which prompted the experts here to coin a new term to define this trend that's sure to catch on: spathroom.
Which makes complete sense: Who doesn't crave a clean, serene spot to recharge after a long day—or as an escape from all the craziness of (still) working from home, the kids, the dog, and the dishes?
"In the midst of the chaos created by the pandemic, we're seeing homeowners turn to their bathrooms for respite, creating calming sanctuaries with premium features, hygienic surfaces, and plants and other greenery," says Marine Sargsyan, Houzz senior economist.
And homeowners aren't going the DIY route when it comes to making sure their loo is done right. Instead, 84% used a professional, up from 82% last year—and an even bigger jump was seen in the hiring of general contractors (49% versus 43% in 2020) to lead the project.
Money was also shelled out in a big way in 2021, with a median bathroom renovation costing $8,000, while more deluxe renovations in the top 10% of spending totaled $30,000 or more.
Check out more of Houzz's 2021 bathroom trends, including the high-tech perks some folks are adding in droves.
Modern rules the day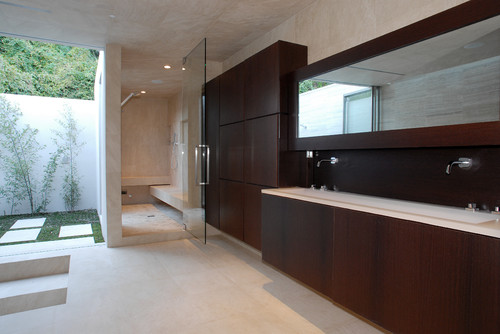 Out with the old—and old-fashioned—and in with the new. Among the folks who are renovating their bathrooms this year, the vast majority (88%) wanted a complete overhaul, stylewise. Rather than traditional or farmhouse looks, homeowners leaned toward modern, transitional, and contemporary decor in their new baths.
Marble and color are big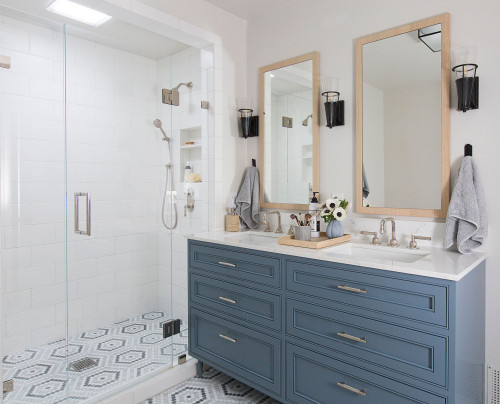 Photo by Melinda Mandell Interior Design
Homeowners can't get enough chic marble for their new bathroom floors, walls, and inside the shower. (The installation of marble shower flooring is up from 13% last year to 17% in 2021.) And color in the loo is leaning oceanic, with blue vanities being chosen at double the rate in 2021 (8% now, versus just 4% in 2020).
Not to be outdone, wooden cabinetry, which offers texture and much-needed warmth in the bathroom, is also trending big-time with 14% of folks choosing vanities with medium wood tones (up from 12% in 2020) and 8% going for lighter wood shades, up from 6% in 2020.
Soaking tubs are tops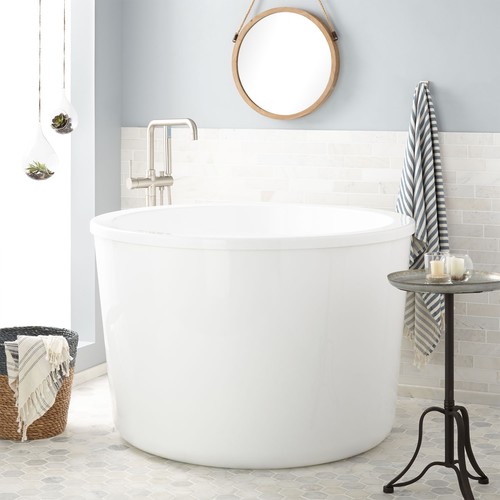 Nothing says spathroom like a gorgeous, deep soaker to sink into anytime you like. And even if bathers use more water than those running the shower, homeowners still report unwinding in a soaking tub (61%) more often than in a long, hot shower (54%).
And premium features related to tubs are definitely a must, per the report, as folks are shopping long and hard for soakers, tubs for two (romantic!), and silent whirlpool baths. On the other hand, shower upgrades are also trending—think rainfall heads, dual showers, and body sprayers.
High-tech toilets are trending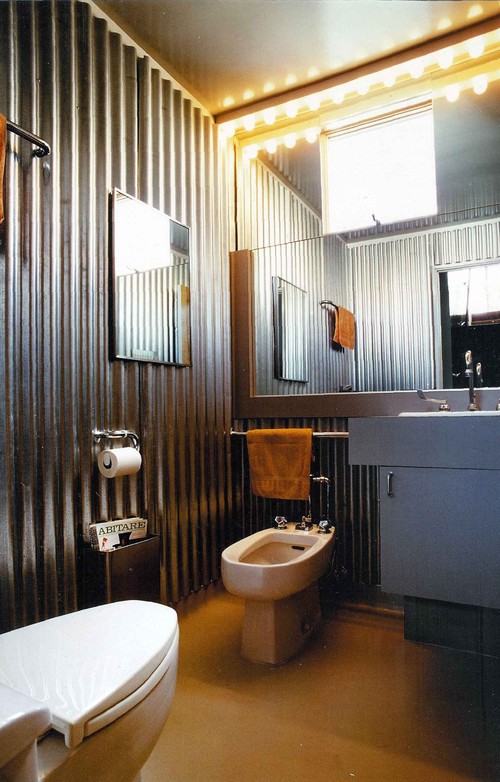 Photo by Glenn Robert Lym Architect
Want to be on trend in your loo? Make like the Euros do. Washing one's nether regions with a bidet in the bathroom is a great way to curb toilet paper runs. According to the Houzz survey, homeowners are asking for all kinds of toilet technology, with more than a third (36%) renovating their loos to include a variety of automated conveniences.
Bidets are indeed the most popular tech perk (20%), followed by toilets that self-clean, heated seats for those chilly mornings, overflow protection, and built-in lights to prevent trips and falls in the dark.
Nature rocks in the loo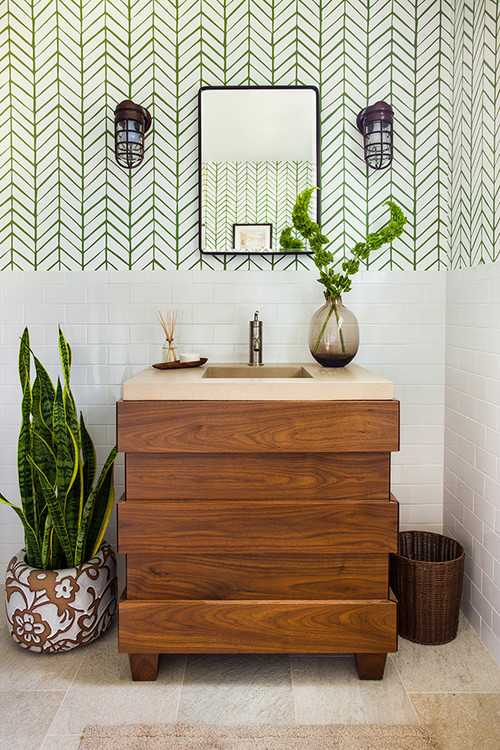 Incorporating plants at home was huge during the COVID-19 pandemic—and the trend continues right into the bathroom. Greenery was up 5 percentage points, and a full third, or 32%, of homeowners report adding plants to their bathrooms post-renovation.